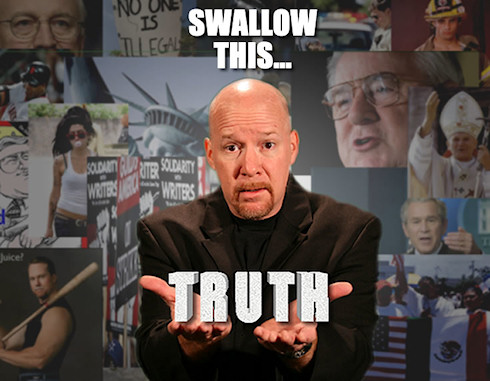 There seems to be a misconception out there when it comes to theories behind developing and writing comedy.
One of the most popularly espoused by many comedy instructors is: your comedy must be true.
NOT SO!
I'm not sure how this particular theory got so out of control. I say, "out of control" because I've heard from dozens of confused students of comedy on this very matter. So many, in fact, I feel that it's time to address in on the blog.
So let me be clear: All comedy does not need to be true.
In other words, you can make stuff up!
To be fair, some of the people who have advocated this 'truth' misnomer may just be repeating something they've heard from other people. Or they are misinterpreting or misunderstanding what "true" is or what it means with regard to developing comedy or developing stories.
Bottom line is that if you only use what's true, you are seriously limiting yourself and your material. There's so much available if you use your imagination.
If you allow yourself to get stuck on only what's true, you'll deny your creative mind the ability to develop a whole field of new material; sketches, act-outs, and solid ponderable or observational creative material (Jerry Seinfeld-style)
However, truth is a good starting point:
For example, I wrote a bit a long time ago on how people in Texas say "Y'all."
That is true.
Once I had that tid-bit of information, I wanted to write a funny routine about it, (I'm a comedian so 'funny' is usually how I like to write: I try anyway).
One of the most effective ways to write comedy, is to take a character trait of a person and put him or her in a situation that is opposite to their persona and/or character traits. It creates a situation that resolves with an unexpected result. Which creates surprise, thus laughter.
Got it?
So all I needed to do is come up with a character that the audience would never expect to use the phrase "Y'all."
I thought British Royalty. That's a good idea, but the odds of meeting British royalty in Texas are slim and improbable—Brits don't understand Texan accents—so I thought further. Then I came up with the idea of using an austere French person.
Where would I find an austere French person in Texas?
A French restaurant in Dallas!
You can probably feel the presence of the incongruous relationship between those two elements (French person/Texas), already, and the idea is giving you a bit of a tickle.
So once I had the character and the situation. I had to create the story and the act-out.
So the bit goes like this:
"I was out of the country recently, I was in Texas. You ever notice that everyone says, "Y'all" in Texas. Everyone! You can go to other parts of the country and you'll have pockets of the population that say "y'all," but everyone in Texas says, "Y'all." Like, one time, I was in a very expensive French restaurant in Dallas—which is a joke in itself—I was at the top of this hotel. Very French restaurant; the waiter was also very French. He had the little French mustache, the towel over his arm, the body odor. He comes up to our table and he's like, "Good afternoon, Mademoiselle, Monsieur: Welcome to Café Lu Bonne: what can I get for Y'all." I was like, "You just blew the atmosphere there 'Pierre.'
He turns around, he's got a faded Copenhagen circle on the back of his Tuxedo pants: That'll teach me for eating at a restaurant called, "Chateu de Big-Ass Barbecue."
This bit is intended to be performed and not written, but it's a bit that works any time, any where I am performing; clubs, corporates, parties, one-niters. It's a no-fail joke.
Take a quick look at the video of that joke:
Jerry Corley at Wiseguys Comedy Club in Salt Lake City
Here's the thing: IT NEVER HAPPENED! The entire scenario is a made-up story.
Bottom line is that comedy doesn't have to be true to be funny and effective.
Here's the caveat: comedy has to be believable and probable. If this was written outside the realm of believability, then the audience would not 'buy it' and the joke would fail.
The thing to remember is that comedy is heightened reality not complete absurdity. As audiences we love to be fooled, but we hate to be made fools of…
Make sense?
One of the other fallible pieces of information that students get subjected to is "don't tell stories."  NOT TRUE!
Notice the above joke. Is it a story or a joke?
It's both. It is a story with seven laugh points, (in orange). It's a bit that lasts about a minute, but includes seven laughs along the way.
Seven laughs in a minute. Considering that most clubs like the Improv, Comedy Store, Laugh Factory, etcetera, look for comedians to have a laugh every 18-20 seconds, seven in a minute doubles that. It's a solid bit.
What do we gain from this?
Stories are fine, just as long as you have laugh points along the way!
What say you?