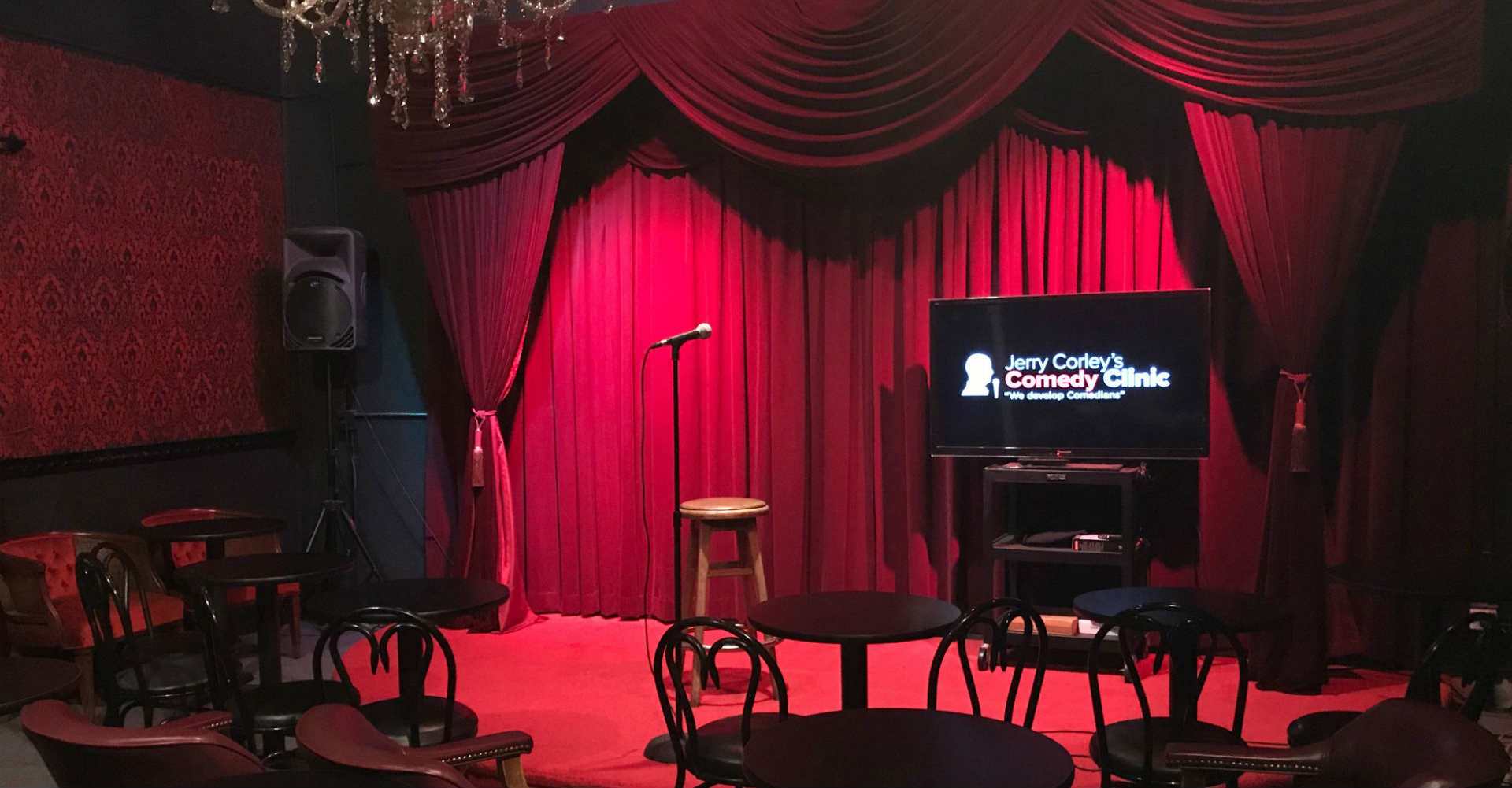 Joke Writing &  Comedy Structure
Learn how to shape a joke so it will get a laugh by learning what triggers laughs & how to write new material each night. With in-class & take-home assignments, you'll explode your understanding of how to get consistent laughs with your comedy.
From beating stage fright to learning how to develop the techniques of verbal inflection and act-outs. You'll quickly learn to elicit laughs through the performance skills that go beyond jokes to act-outs, attitudes and personas. Also learn how the power of silence can elicit laughter!
Comic Character & Persona
Persona and attitude are at the root of what makes stand-up so unique. Develop YOUR persona and stand out from everyone else. Learn to let your attitude and your TRUE self shine through. Discover how the laughs can be more effective with a solid comic character.
Learn Stand-up Comedy in this Fun 8-week Course
How to Write an Original Joke
Grab this FREE video tutorial and learn a quick & easy technique for writing an original joke in minutes!
We value your privacy and would never spam you
Each Class is Built on 2 Parts
Comedy Writing Structure & Theory
Comedy only occurs when specific stimuli is present in the material being presented. Through writing exercises, each class you will learn and practice creating comedy material by applying the crucial strategies used by the most successful comedians and comedy writers so you can take your life and your observations and turn them into laugh-out-loud comedy!
Performance & Stage Presence
Each and every class students take the stage (via Zoom) and deliver their ideas utilizing the comedy structures they are taught each week during the lecture and writing portion of the class. Students are encouraged to explore their freestyle and improvisational selves as well. The emphasis is on the student becoming their most authentic self.
12 Ways to Crush Writers Block

Fail-safe tools you can use to break through writer's block

13 Major Comedy Structures

Learn the major comedy structures used by every popular comedian or comedy writer.

9 Psychological Laughter Triggers

The human brain is wired to laugh at certain stimuli. Be sure to include them in your jokes.

Build a Solid Comedy Set from Scratch

A comedy set should have a beginning, middle and end. Learn how to craft a professional set.
Overcome Stage Fright

Learn simple but powerful techniques to overcome stage fright.

Beyond the Jokes to be More Dynamic

Learn how to use emotion to create a super compelling performance.

4 Keys to Take your Comedy to the Next Level

You'll Love This! Answers to taking your comedy to the next level.

HD Video of Your Comedy Show

A quality video of your act is the key to success. There's no better video in the industry.
About the Teacher
Jerry Corley has 30+ years as a touring professional comedian, comedy writer and screenwriter with multiple television appearances as a stand-up. As a writer Corley has 8 years writing for the Tonight Show with Jay Leno and a screenplay to his credit called "Stretch," which stars Chris Pine, Ray Liotta & Jessica Alba.
As a teacher: Jerry was invited to the prestigious Meyerhold Institute in Moscow, Russia where he taught 24 Russian actors how to do "western-style" comedy.
While you can learn something from anyone, no one has the depth of credentials or the experience in performing & comedy writing to teach stand-up comedy like Jerry Corley.
What sets Jerry apart from almost all the other comedy instructors you'll find in L.A. is the that Jerry is not only a comedian but a professional comedy writer. He can help you to understand what triggers human laughter and help you understand why something is funny or not funny and then help you to fix the joke. Jerry emphasizes structure in your jokes and your material.
Why?
Because whether you're a 1 & 2-line comic or more of a story teller, structure is what gets laughs.
My life partner and I just finished our second round of Jerry's classes. I just love Jerry as a comic and a teacher. I love it when I meet a person who loves sharing a special insight on life and that's how his instruction occurs for me. I could have started stand up with any program in town, but a friend recommended him and now I see why.

Ted Trent Gay Comedy Duo

I must say, he is truly great, I definetely have a great time learning from Jerry each and every lessons-PROUD STUDENT.

Daniel Lemar

"Nobody else out there has the credentials Jerry does; working comedian, comedy writer, teacher, author, screenwriter and Executive Producer of a major motion picture comedy… and he shares all his knowledge and experience! Worth 10x the cost! Bravo, Jerry!"

Fred Sotille Author

"Jerry Corley's Stand Up Comedy class was amazing. I went into in wanting to learn how to write funny. Never wanted to do a stand up rountine. Didn't think I had it in me. With his help and guidance, I performed a 10 minute set in front of 90 people. It was one of the greatest nights of my life. He knows his comedy and is great at teaching it. I would recommend this class to everyone."

Kim Smith

"Jerry has turned my comedy dream into a comedy reality by allowing me to find my own unique voice. Without his comedy class and caring support I would not have come so far, so fast."

JC Morgan JC Morgan Comedy

I started taking classes through Jerry's studio in June '16. I've taken 3 of his classes, and I'm repeating one of them. Once I got out of my own way, really started paying attention to Jerry, plus doing the homework, Ive been blown away by my progress and improvement with my joke writing.

Brian Gilbert

I cannot begin to tell you how amazing this workshop is! I've been doing stand up comedy for many years now, I have every book written about it, took a couple of workshops too and this is the best I've encoutered by FAR! Not only will you learn about a zillion ways to find and write comedy, you'll be given essential tools that will help you in your everyday writing as well as in your career planning. Do not miss this one, you will be amazed by Jerry's incredible knowldege.

Anne-Marie Dupras Conceptrice at Le Projet Stérone
I like to give everyone a chance to sit in class and check it out to see if it's a right fit. I think you'll be amazed at how the science of comedy can give you control over your sense of humor. So sit in and give it a shot. I mean, really? What have you got to lose?
Train with the "Joke Doctor" via Zoom!
How to Write an Original Joke
Grab this FREE video tutorial and learn a quick & easy technique for writing an original joke in minutes!
We value your privacy and would never spam you
Share and Spread the Laughter!